#1 Read your meter the last day of every month.
Example: This meter reads 081710. You report 081700. All readings and usage must be recorded in hundreds of gallons to be compatible with the rate sheet in the back of your coupon book and District Policy.


#2 Fill out your payment slip.
Subtract the previous month's reading from the present reading, the result is the gallons used. Go to the rate sheet in the back of the payment book, to the right of the gallons used is the amount due or see rate chart below.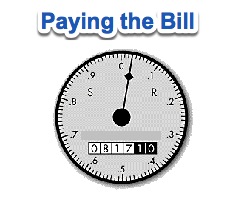 AFTER YOU HAVE SUBMITTED YOUR READINGS ON THE WEBSITE AND HAVEN'T RECEIVED A RESPONSE AFTER 24 HOURS, PLEASE CALL THE OFFICE AT (830) 709-3879!
DON'T FORGET TO USE THE ADDRESS LABELS THAT WERE MAILED OUT WITH YOUR PAYMENT BOOKS!


EAST MEDINA COUNTY SUD NOW HAS A NEW MAILING ADDRESS:
East Medina County SUD
P. O. Box 628
Devine, Texas 78016


PLEASE NOTE: COMMERCIAL/AGRICULTURAL/INDUSTRIAL CUSTOMERS ARE AT A HIGHER RATE. PLEASE CALL THE OFFICE FOR INFORMATION
NEW RATES GOING INTO EFFECT 1-1-15 WITH YOUR DECEMBER WATER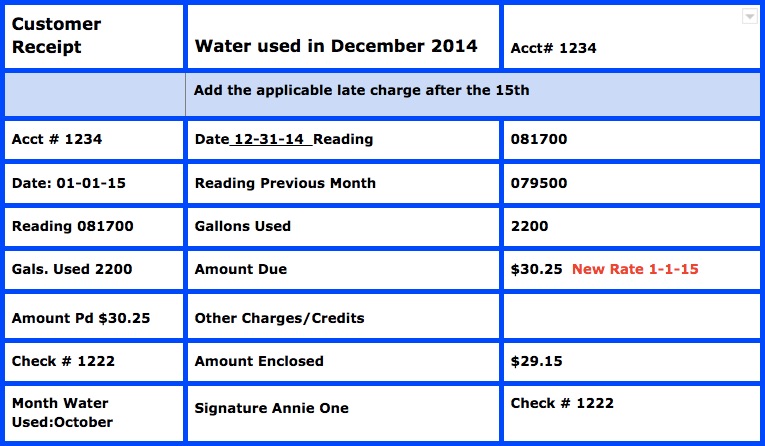 Submit your Meter Reading